35 - Leadbelly Adapts Boogie Woogie Bass Line from Piano to Guitar
by John Tennison — History of Boogie Woogie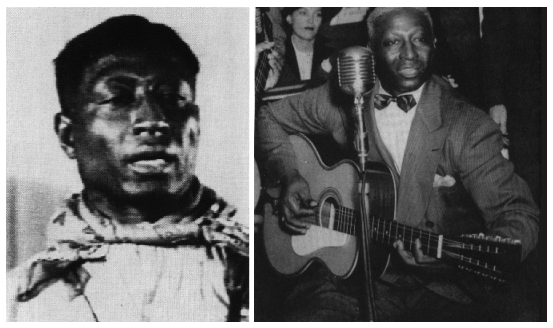 Leadbelly was among the first to adapt the rolling bass of Boogie Woogie to a guitar. He was born in 1888 (or 1889 depending on the source) and died in 1949.
According to "The Story of Boogie Woogie: A Left Hand Like God,"9 by Peter J. Silvester, with a special contribution from Denis Harbinson,
"....between 1872 and 1876, the Texas & Pacific Railroad had been laying track to the west of Shreveport at Marshall and to the north of Shreveport at Texarkana. In this general area, or in Caddo County, or in Shreveport itself, is where the blues singer and guitarist, Huddie 'Leadbelly' Ledbetter, first heard barrelhouse pianists playing boogie-woogie walking basses in 189935 (or 1901, depending on source)."9
On page 17 in his chapter on Boogie Woogie in Just Jazz35, Ernest Borneman notes:
"About 1900, Leadbelly heard an old-time Louisiana pianist named 'Pine Top' (not Clarence 'Pine Top' Smith) playing Boogie on Fanning Street." (Borneman misspelled "Fannin" as "Fanning.") Leadbelly was so inspired by this piano playing that he imitated Pine Top's rhythmic piano style on his guitar.
Borneman quotes Leadbelly's comments about Fannin Street's Pine Top on page 17 of Just Jazz35:
"He played that Boogie Woogie. That's what I wanted to play on guitar—that piano bass. I always wanted to play piano tunes. I got it out of the barrelhouses on Fannin Street."35
Note: The "Pine Top" to which Leadbelly refers was not Clarence "Pine Top" Smith from Alabama who first used the word, "Boogie Woogie" in the title of his Boogie Woogie sound recording. Clarence "Pine Top" Smith was not born until June 11, 1904.
Leadbelly met fellow blues player, Blind Lemon Jefferson, in the Deep Ellum area of Dallas. For an uncertain period of time, they played together in Dallas. Deep Ellum developed as a mecca for original music in Dallas as a direct consequence of being at the crossroads of the Texas & Pacific Railroad and the Houston & Texas Central Railroad. This crossroads was important to the development of blues music in Texas. Leadbelly relied on the Texas & Pacific Railroad to transport him to Dallas. Moreover, he has stated that he and Blind Lemon used the T&P to travel to locations where they would perform together. Specifically, on page 22 of the chapter, "Blind Lemon Jefferson: That Black Snake Moan: The Music and Mystery of Blind Lemon Jefferson," in the book, "Bluesland: Portraits of Twelve Major American Blues Masters,"28 Alan Govenar wrote of Leadbelly's recollections about Leadbelly's and Blind Lemon's travels on the Texas & Pacific Railroad: "Leadbelly remarked that they were often able to get free rides on the Texas & Pacific Railroad in exchange for their playing."28
Leadbelly could be responsible for having taught Blind Lemon Jefferson to play a walking bass line on Jefferson's guitar. According to Sammy Price, Jefferson called his walking bass line his "booga-rooga."40
{REL[related_bio_one]SHi0Mxu3REL} {REL[related_bio_two]dCE8drd2REL}
© 2004-2009 John Tennison — All Rights Reserved