17 - Hersal & George W. Thomas, Jr. Influenced Many Boogie Woogie Players in Chicago
by John Tennison — History of Boogie Woogie
Evidence that Ammons was influenced by Texas Boogie Woogie musicians (especially Hersal Thomas) who had moved to Chicago was provided in 1939 in Chapter VIII ("Boogie Woogie") of Jazzmen1, where historian William Russell wrote the following on page 189:
"Albert Ammons is younger than most of the Chicago blues pianists, but he was old enough to be a member of the Eighth Illinois Home Guards during the World War. In his early teens he joined the bugle and drum corps. They had fourteen buglers and fourteen drummers; Albert was one of the drummers. Both his parents played piano. Not long after the war, he started to learn the blues and soon knew two or three good pieces. He listened to the Yancey brothers and to other Chicago pianists, including Hersal Thomas, another remarkable musician who never gained more than local fame. Hersal played all the favorite blues and was known especially for his own Suitcase Blues. In those days if a pianist didn't know the Fives and the Rocks [composed by George and Hersal Thomas from Texas] he'd better not sit down at the piano at all. Whenever Hersal Thomas, who made a deep impression on young Ammons, came to a party, the other pianists were afraid to play; so he became unusually popular and got all the girls."
Other evidence documenting the influence of George and Hersal Thomas on Albert Ammons and Meade "Lux" Lewis comes from "5 Boogie Woogie Piano Solos by All-Star Composers" (a book of sheet music) edited by Frank Paparelli, Copyright 1942, Leeds Music Corporation, RKO Building, Radio City, New York, NY.12 This source states:
"Albert Ammons and Meade 'Lux' Lewis claim that 'The Fives,' [copyrighted in 1921 and published in 1922] the Thomas brothers' musical composition, deserves much credit for the development of modern Boogie Woogie. During the twenties, many pianists featured this number as a 'get off' tune and in the variations played what is now considered Boogie Woogie."12
Indeed, all modern Boogie Woogie bass figures can be found in "The Fives," including swinging, walking broken-octave bass, shuffled (swinging) chord bass (of the sort later used extensively by Ammons, Lewis, and Clarence "Pine Top" Smith), and the ubiquitous "oom-pah" ragtime stride bass.
In the liner notes to the 1967 Sippie Wallace album, "Sippie Wallace Sings the Blues," released by Storyville Records, historian Paul Oliver wrote the following about the influence of and untimely death of Hersal Thomas:
"This was an irreparable loss to the piano blues as witness the memories and testimony of such performers as Jimmy Yancey and Albert Ammons. Every pianist tried to play his 'Rocks' and 'Fives,' and learned his figures from his [Hersal's] records; one was Little Brother Montgomery from Louisiana whose support to Sippie on "Special Delivery Blues", "I'm a Mighty Tight Woman" and "Murder's Gonna Be My Crime" evoke shades of the great Hersal."70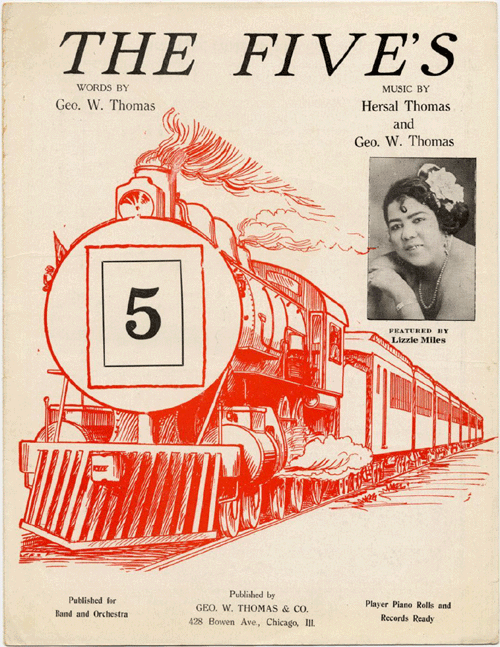 Above is the cover of the "The Five's" (usually referred to as "The Fives" without an apostrophe), copyright registered in 1921 by Hersal and George, and published in 1922. If anyone has a full copy of this sheet music, I would love to hear from them at nonjohn@yahoo.com.
Although he provides some valuable historical information in "Jazzmen"1, William Russell mistakenly wrote that Jim Yancey had written, "The Fives."
In "Jazzmen"1, Russell erroneously writes,
"Around five o'clock in the morning when almost everyone was knocked out and things were getting pretty dull and awfully quiet, someone over in a corner came to life and yelled out, 'Let's have some blues.' Then Jimmy obliged with his Five O'clock Blues, known as the Fives for short."
However, Borneman disputes the idea that "The Fives" are short for "Five O'clock Blues." (See the Borneman quotation below.)35
In "Jazzmen"1, Russell also erroneously writes,
"His [referring to Yancey] first piece, the Fives, is probably the germ from which most of the piano blues of the Boogie Woogie type grew, and after a quarter of a century, it can still hold its own in dynamic interest and vitality when compared with later versions."
Although Russell was mistaken to credit Yancey with having written "The Fives," Russell was correct when he wrote that "The Fives" is "probably the germ from which most of the piano blues of the Boogie Woogie type grew…."1 However, it is Hersal and George Thomas who deserve the credit for spreading the musical motifs heard in "The Fives" from Texas to New Orleans, and then to Chicago. Witnesses to this fact include Albert Ammons, who indicates that Yancey was NOT the author of, "The Fives." Instead Ammons claims that Hersal Thomas brought the "Fives" to Chicago. Ammons, who was a pupil who admired Yancey, would have had no obvious motivation to credit Hersal Thomas while discrediting Jim Yancey. Thus, Ammons' claim should be taken seriously.
Specifically, Ammons' refutation of Russell's claim can be found on page 21 of Ernest Borneman's chapter on "Boogie Woogie," in chapter 2 of "Just Jazz"35:
"Hersal Thomas, composer of 'Hersal Blues' and 'Suitcase Blues', was the first person, according to Albert, to bring the 'Fives' to Chicago. Some critics have said that the Fives are short for 'Five O'clock Blues', a title under which Jim Yancey recorded them. But it seems much more likely that they take their name from that rudimentary boogie bass, fingered by first and fifth finger alone, which takes the tonic, adds the fifth and alternates back and forth between it and the sixth."35
Moreover, William Russell in his chapter titled "Three Boogie-Woogie Blues Pianists," in the book, "The Art of Jazz: Essays on the Nature and Development of Jazz,"62 edited by Martin Williams, Oxford University Press, 1959, states the following about Jimmy Yancey's time on the T.O.B.A. circuit (page 100):
"Jimmy never played piano on the stage; in fact he didn't start to learn it until he was fifteen."62
Thus, since Yancey was born in 1898, Yancey did not start to play the piano until 1913, which is 2 years after George W. Thomas was witnessed by Clarence Williams to have been playing Thomas' "Hop Scop Blues" (later renamed "New Orleans Hop Scop Blues") in Houston, Texas. Thus, this lends still more evidence that Boogie Woogie had undergone significant development before Yancey ever started playing the piano.
On page 17 of the February 19, 1959 issue of Down Beat, Meade Lux Lewis speaks about the pianist who caused him to shift his allegiance from violin to piano:
"Lewis considers that the primary reason for his shifting allegiance to piano [from violin] was the emergence on the Chicago scene of a pianist from St. Louis, Mo., whose name he cannot remember."55
and
"This man played The Fives. It was something new and it got Ammons and me all excited. (Sure wish I could remember his name.) The best way to describe his way of playin' is to say that the right hand played The Fives while the left hand didn't matter. You could play any kind of left hand—a rumble bass, a walkin' bass, and so on."55
Given the most probable railroad route from Texas to Chicago, Hersal Thomas would have almost certainly come "from" St. Louis to arrive in Chicago. Moreover, Meade Lux Lewis' account of a man "from St. Louis" who "emerged on the Chicago scene" playing "The Fives" indicates that this person was not Yancey (who was from Chicago), and moreover, that Yancey had not been what inspired Lewis to switch his instrument from violin to piano.
In the April 19, 1924 issue of "The Music Trade Review," an article titled, "A Juvenile Songwriter" stated:
"Hersal Thomas of Chicago [after moving from East Texas] enjoys the distinction of being one of the youngest songwriters in the world. He has just passed his fifteenth birthday…The outstanding song written by this young songwriter is entitled, "The Fives"...This was his first commercial recording and has been followed by others which are meeting with a good sale among the dealers."
The CD "Boogie Woogie Blues" released in 1991 by Biograph Records contains digital recordings derived from the playback of piano rolls made by early Boogie Woogie artists. Among these is Hersal Thomas, who had moved from Houston to Chicago with his older brother, George W. Thomas, Jr. The liner notes of the "Boogie Woogie Blues" CD state:
"Hersal Thomas, king of Chicago's house-rent party pianists in the middle 1920's, was one of the first to record a Boogie Woogie solo."
and

"Unfortunately, Thomas passed away at the age of twenty. However, his music lives on through many prominent Blues pianists of today."
When speaking about the various piano players at 'boogie' or 'house-rent' parties in Chicago, Paul Oliver wrote on page 92 in The Story of the Blues5:
"They included the child prodigy, Hersal Thomas, whose appearance in Chicago and Detroit from Houston, Texas, at the age of fourteen created sensation and profoundly influenced the piano players who heard his grumbling basses and highly poetic melodic inventions."
and (page 92)5
Hersal & George W. Thomas, Jr. Influenced Jimmy Yancey, Albert Ammons, Meade "Lux" Lewis, and Other Boogie Woogie Players in Chicago
Paul Oliver wrote, "Pine Top Smith took his wife, Sara Horton Smith, to Chicago and took the room on South Parkway in a building where, coincidentally two other piano-players, Mead 'Lux' Lewis and Albert Ammons, were also living." Ammons has reported having contact with Pine Top Smith. Moreover, both Ammons and Lewis acknowledge having heard and having been excited and inspired by Hersal Thomas. Thus, given his proximity to Ammons and Lewis, Pine Top probably also heard the performances of Hersal Thomas, who was already in Chicago with his brother George no later than 1923 (prior to Pine Top Smith's arrival). Moreover, Pine Top's Boogie Woogie (1928), like than of Ammons and Lewis, clearly shows some elements used by the Thomas brothers.5
Moreover, Peter Silvester notes that Yancey's 1939 Solo Art recording titled, "'The Fives' was basically the same piece as 'Yancey Stomp' and 'Midnight Stomp.'" (page 50)9
These 1939 recordings on the Solo Art label were Yancey's first recordings. Of these recordings, Peter Silvester states (page 50):
"It is strictly Yancey material and the titles given to it were probably concocted for the recording sessions."9
Thus, Silvester indicates that titles used by Yancey in these 1939 recordings had NOT been the titles used to refer to Yancey's musical material prior to 1939, but had simply been a re-titling of Yancey's music.
Indeed, if Jimmy Yancey had been playing "The Fives" or similar material in the 1920s, it is hard to believe that he would not have had opportunities to record at that time, as nothing inhibited his communication with the talent scouts from the early record companies that were recording Yancey's associates. Moreover, besides the thriving 'race' recording industry in Chicago at the time, Yancey's having toured on the T.O.B.A. circuit would have given him numerous opportunities to have been discovered and to have traveled to and heard music from various places, including that from Texas. Lastly, unlike Lead Belly, Yancey (to my knowledge) was not incarcerated, which would have made it more difficult to record, as when Lomax had to bring the recording equipment into the prison to record Lead Belly.
Peter Silvester's analysis (page 180)9 of Yancey also raises doubts about Yancey recording so late relative to the other Boogie Woogie players:
"It is a strange fact about Jimmy Yancey's musical career that despite his popularity as a rent party pianist in the 1920s and 1930s he never entered a studio during this period when sale of 'race' records were at their height."9
In summary, not only did Hersal and George Thomas influence Ammons and Lewis, the Thomases also influenced Jim Yancey, as evidenced by Yancey's re-titling his music "The Fives" in 1939. This influence is chronologically consistent with the fact that Yancey did not make his first recordings until 1939, many years after after George and Hersal Thomas, and others made their first Boogie Woogie recordings.
© 2004-2008 John Tennison — All Rights Reserved